CEO's Message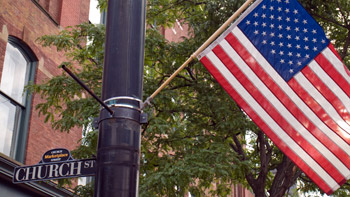 Since 1904, Signage US has been designing and manufacturing high impact signs in our Meriden, Connecticut manufacturing facility for retail, commercial and industrial businesses throughout the country.
Over the years, our family-owned business has evolved – though we've kept making beautiful handmade, hand-painted signs, we've changed the way we make signs to handle volume orders on tight schedules. By investing in the latest state-of-the-art manufacturing equipment, interior graphics printing systems, CAD design computers and experienced people in manufacturing and project management, we can make it all work even under the most demanding installation schedules (see Case Study: 395 Stores in 5 Weeks). I'm proud to say we can produce high quality, energy efficient signs and interior graphics in quantity, at very reasonable prices. Our expanded manufacturing capabilities also allow us to grow conservatively by adding a few select clients each year.
Today, over a century later, we are a one-stop, state-of-the-art sign manufacturing company that bucks the industry trend of sourcing signs from other manufacturers and non-U.S. sources. In contrast, we offer a complete suite of in-house services including design, manufacturing, installation, permitting, comprehensive project management and ongoing maintenance programs for any type of exterior or interior sign, in any quantity your company needs. We are proud to offer better signs and better service to any location in the USA, and back every sign we make with a comprehensive 3-year warranty.
In addition to making great signs, we offer a variety of business options that our competitors do not. So if it makes financial sense to outsource or own your own dedicated sign manufacturing facility, we have the expertise to make that happen.
No matter where your business is, if your company prefers to do business with a made-in-America sign company, we can be a great business partner. Call us or fill in our inquiry form and let us show you what we can do.
Thanks for visiting our web site.

Bob Laurencelle
CEO Signage US

|

|

Share